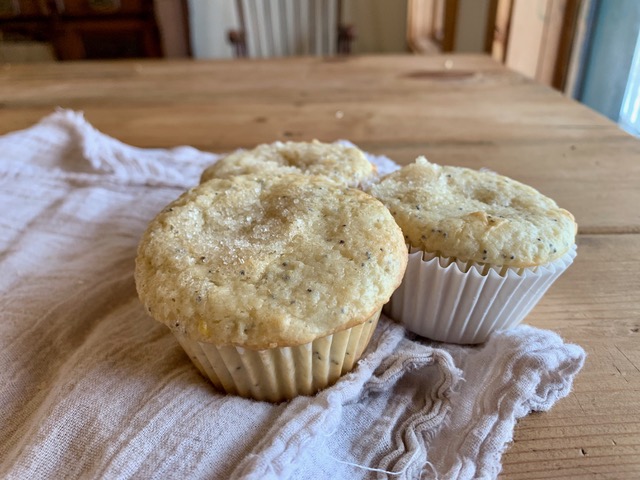 Truly Sourdough, Lemon Poppy Seed Sourdough Muffin Recipe
Most sourdough muffins simply use some discard in them, so I called these a "quickie sourdough." While they use up some of the ever-present discard jar in my fridge…the flour in them is not truly fermented, so when one has a sensitive tummy, these don't have the benefit of fermentation to keep that tummy happy.
This recipe is the best of both worlds, you can mix and bake right away when you are short on time, OR ferment part of the dough overnight (or all day) and then mix and bake to make the muffins a true sourdough.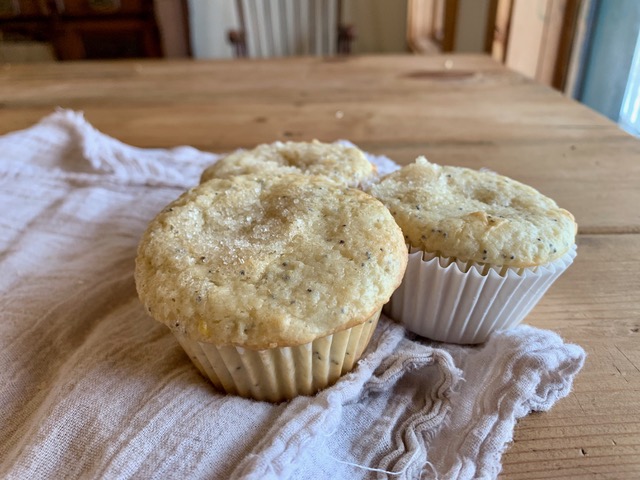 While muffins are fun, when one is feeding many children…one can get tired of scooping and baking muffins. I'm happy to tell you that you can bake this recipe in a 9×13 pan, for just a few minutes longer, and then just slice and cut like a cake.
You can bake the batter as is, or we like to dress up in two different ways. If you plan to freeze them, I do not suggest topping them, the toppings get soggy in the freezer. One way is some organic cane sugar sprinkled on top before baking- it makes a lovely sweet crunch that makes this muffin skirt the line on a cupcake. Which is how I like my muffins…
The other way is a quick lemon glaze after they come out of the oven, which works best on a 9×13 pan. If you planned to freeze it, you could take it out of the freezer, fully thaw and then top with a lemon glaze and be on your way!
Mixing up the dough does take a little elbow grease by hand, so feel free to use your mixer, but I find a Danish dough whisk makes short work of mixing by hand. They work well on any batter and are super easy cleaning – stuff doesn't get stuck like it would in a regular whisk.
Baking in a casserole dish makes it easy for you to bulk bake and freeze for another day because muffins freeze so well! Definitely give it a try when your discard is starting to take over the fridge.
Print Recipe
Lemon Poppy Seed Sourdough Muffins
Whether you use discard or let the batter truly ferment, these sourdough muffins fit your schedule. Did you know you can bake muffins in a cake pan?
Ingredients
1 1/2

cups

sugar OR 3/4 cup honey

1

cup

buttermilk or milk kefir*

2

cups

sourdough starter discard

3

cups

flour

all-purpose, whole wheat, or a mix

2

tsp

vanilla

1/4

cup

lemon juice

1

tbsp

lemon zest

optional but terrific

2

tbsp

poppy seeds

2

large

eggs

1/2

cup

melted butter or liquid oil such as olive or sunflower oil

1

tsp

salt

1

tsp

baking soda

2

tsp

baking powder
Glaze (optional)
1 1/2

cups

powdered sugar

1

tbsp

vanilla

2

tbsp

lemon juice

1-2

tbsp

water

to desired consistency
Instructions
To ferment ahead of time for true sourdough:
Mix sugar, flour, buttermilk and sourdough discard together in a bowl. Cover and let sit on the counter 6 hours, up to overnight.
To make now:
Mix the sugar, flour, buttermilk and sourdough discard up and then immediately move onto the next step.

When ready to bake, preheat the oven to 350F. Mix in the vanilla, lemon juice, lemon zest, poppy seeds, eggs, melted butter, and salt. Mix well. Its going to be a little gloppy/hard to mix, but use your elbow grease!

Sprinkle the baking soda and baking powder over the whole dough, and mix well for 10-20 seconds. Let sit while you line your muffin pans or grease your 9×13 pan. The chemical reaction with the sourdough and the baking powder/baking soda with change the consistency of the dough to be more like a normal muffin batter.

Scoop 1/4 cup scoops into muffin papers/greased muffin pans or pour the whole bowl in a 9×13 pan.

If desired, sprinkle with coarse sugar such as organic cane sugar, maybe 1/2-1 tsp per muffin.
To bake:
Muffin tins take 20 minutes, turning halfway. Check with knife to make sure they are done

A 9×13 pan takes 30-35 minutes, turning halfway, check with a knife to make sure it is done.
To glaze:
1 1/2 cups powdered sugar, 1 tbsp vanilla, 2 tbsp lemon juice and then if you want it thinner, 1-2 tbsp water. Pour over the 9×13 pan.
Notes
*You can also 'water' down plain yogurt to make it buttermilk consistency, roughly half plain yogurt with half milk or water.
These muffins/loaf really need to cool down to being just warm. If you eat them when they're still hot, they will stick to the papers and be gummy. Sourdough needs to cool down a bit to set up its 'crumb structure.'
Nutrition is calculated without glaze.
Nutrition
Serving:
1
muffin
|
Calories:
235
kcal
|
Carbohydrates:
39
g
|
Protein:
4
g
|
Fat:
7
g
|
Saturated Fat:
4
g
|
Cholesterol:
36
mg
|
Sodium:
314
mg
|
Potassium:
59
mg
|
Fiber:
1
g
|
Sugar:
18
g
|
Vitamin A:
210
IU
|
Vitamin C:
2
mg
|
Calcium:
64
mg
|
Iron:
1
mg
Grab and Go Baking