Whether you're making a single mug of hot chocolate, enough to serve a whole crowd, or a refreshing glass of chocolate milk in the summer you'll want to have a jar of Hot Chocolate Mix on hand for all of your chocolate drinking needs!
I've been using this homemade hot chocolate mix for years, but recently discovered it's excellent to bring to a crowd too! It also makes a mean glass of chocolate milk when the days are warmer.
In our house, we have a milk cow, and I like to skim some of the cream wherever possible so I can make more butter (never enough butter!), sometimes I'm left with gallons of skim milk, thats really still more like whole milk from the store, that I either make mozzarella with, make chocolate milk with some, or plan to bring it to a gathering or serve to guests coming over. Most of our friends have XL families like us and it disappears fast!
Why You Need This Recipe
keeps in the pantry for ages (you'll absolutely use it up before it goes bad)!
great for gift-giving (the mix) or party hosting (hot cocoa).
I'm not sure what they do to commercial chocolate drink powders that makes them dissolve instantly, but I know I don't want it!
Key Ingredients
Raw Cacao - this is unprocessed cocoa beans, and I highly recommend it for the nutrients as well as the taste. We have become accustomed to the slight bitterness, but you can also use cocoa powder if that's more your speed.
Sugar - reach for organic cane sugar for a classic taste, as well as to offset the bitterness of the cacao.
Salt - this is essential, even in a sweet drink. It simply balances everything out.
How to Make Chocolate Milk Mix
***See recipe card below for precise measurements and instructions.***
Step 1: I like to alternate the layers of sugar and cacao in the jar, as it helps it combine much easier.
Step 2: To make a mug, measure out "mugs" of milk into a pot and add 1 tablespoon mix per mug.
Step 3: Whisk it well until combined and heated up!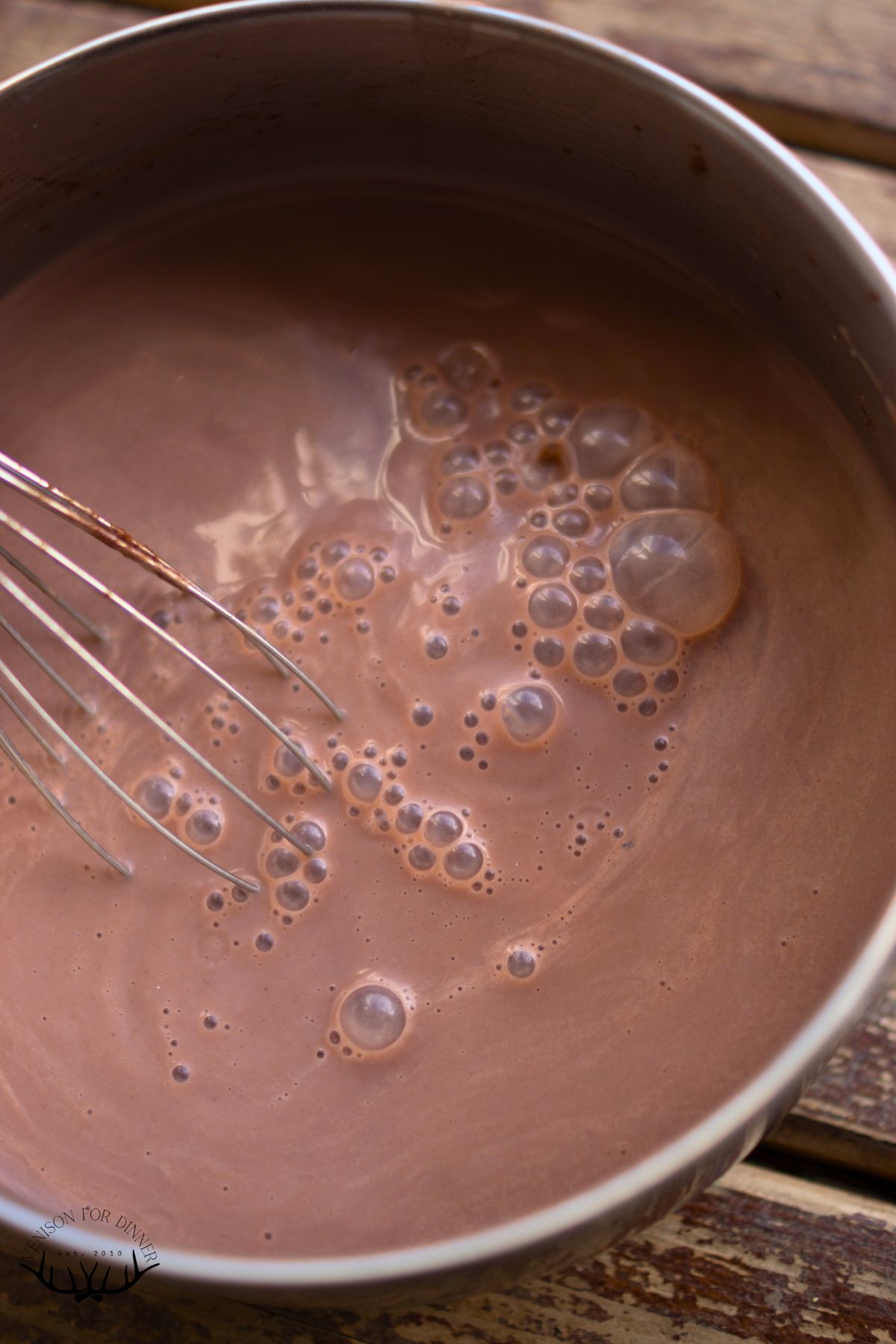 Step 4: For a crowd, you can make a gallon of hot cocoa at once in the Instant Pot.
Tips and Tricks
Make sure and use a quart jar and layer the ingredients for ease of mixing.
Give gifts of hot cocoa mix! Add to a half pint jar with a cute tag of the instructions to make a mug.
Keep the jar of mix in the pantry away from heat and light for freshness.
This mix does require you to do some arm exercise! It will not dissolve into cold liquids especially with just a spoon. But my kids are old enough that even a hand held brother works well and they can help themselves. I love allowing my kids the "treat" of chocolate milk when I know all the ingredients!
Substitutions
I prefer to use raw cacao because it's unprocessed and just pure cacao. Cocoa powder is more processed, but you can find organic or "better" options. It's totally fine to use whatever you are comfortable with. Cacao can be a bit bitter, especially if you aren't used to it. However, we are mixing it with sugar and maybe a marshmallow treat, so most people won't suspect there's something different about it.
FAQs
Is this allergy friendly?
Cocoa powder/cacao are both dairy-free, so that makes this mix entirely dairy-free! You can mix it into any milk of your choice, meaning everyone can enjoy a cup or mug.
What can I add to my hot chocolate?
Try adding a splash of peppermint or vanilla extract, especially when making it for a crowd. It just adds a little something. At the holidays you can also add mini candy canes hooked to the side of the mugs.
photos by Kiara Colebank
More Kid-Friendly Drink Recipes
Hey friends, don't forget to follow me over on Instagram, cause if you like me here, I post there a LOT! I'm also on YouTube with tutorials and Facebook for all sorts of things.

If you like this recipe, I'd love if you reviewed it so others can find it easier. Sharing this recipe on Facebook or Pinterest is another way you can help us out at no cost to you. Thanks, xo Kate
Hot Chocolate Mix
I've been using this homemade hot chocolate mix for years, but recently discovered it's excellent to bring to a crowd too!
Ingredients
2

cups

organic cane sugar

1½

cups

raw cacao

1

teaspoon

good salt
Instructions
Hot Chocolate Mix
Set out a quart jar with a lid.

Measure 1 cup of sugar into the jar, stir the salt into it. Add 1 cup cocoa, 1 cup sugar, then the last ½ cup of cocoa. Put a lid on and shake well.
Hot Chocolate Recipe
To make a cup (or just a few cups) of HOT chocolate measure out your milk (we use a mug to gauge how much we will need) into a pot.

For every mug of hot chocolate use 1 tablespoon of mix. Warm it up and serve!
Instant Pot Hot Chocolate for a Crowd
Pour a gallon of milk into your Instant Pot, turn it onto sauté to get it warming up.

Measure in 1 cup of hot chocolate mix. Keep an eye on it and stir the milk so it doesn't burn to the bottom. Keep whisking to mix in the hot chocolate mix as it warms up.

When it's hot enough, turn on to "keep warm," leave the lid off, and your guests can help themselves!
Chocolate Milk
Fill a half gallon jar ⅔ of the way full with milk.

Add ½ cup hot chocolate powder, and blitz with an immersion blender. (Or you could just do a couple cups of milk and the powder in a normal blender, and mix into the rest of the milk) then top up the jar with more milk.

Give it a shake before you pour as some will settle.
Notes
I talk about in the youtube video the difference between raw cacao and cocoa and if you only have/have access to cocoa, by all means use it, but if you can order raw cacao from somewhere like Om Foods for a really reasonable price, please do!
Nutrition
Serving:
1
tablespoon
Calories:
29
kcal
Carbohydrates:
8
g
Protein:
0.5
g
Fat:
0.3
g
Saturated Fat:
0.2
g
Polyunsaturated Fat:
0.01
g
Monounsaturated Fat:
0.1
g
Sodium:
42
mg
Potassium:
37
mg
Fiber:
1
g
Sugar:
7
g
Calcium:
3
mg
Iron:
0.3
mg