Marius says I make THE BEST Iced Tea. And since he's the Man of The House, what he says is Law, and therefore, he's gotta be right, right? 😉 Think "homemade Snapple" and you've got yourself a good idea of what this will be like. Except it's all real food and we can pronounce every ingredient!
Nothing beats some sweet tea in a jar on a super hot day. You can have the jar in the fridge to bring outside when there's a short break in chores. Keep everyone hydrated so they can get everything done! It's also perfect for picnics, potlucks, or any sort of gathering.
Why You Need This Recipe
Adjust the sweetness to your liking. No more super-sweet store bought drinks.
Choose to make it with caffeine or not!
Ready in 15 minutes if you use tap water and ice it down quick, so you don't even have to plan ahead.
Key Ingredients
Tea - I've made this with black, green, herbal, you name it. You can use tea bags or loose tea, flavoured tea or plain.
Honey - The absolute perfect natural sweetener. If you keep bees, use their honey. Buy local. Or buy a local honey at the market or store. Anything works here (just keep in mind if you are serving to super young kids you will want to use sugar instead).
Lemon juice - Cuts the sweetness and gives it just the right taste.
Salt - Did you know that salt truly balances things? That's why it's in drinks, baking, everything. It's not just for dinner!
How to Make Honey Iced Tea
Step 1: Add the tea bags, honey, salt, and lemon juice to a 2 quart jar or pitcher.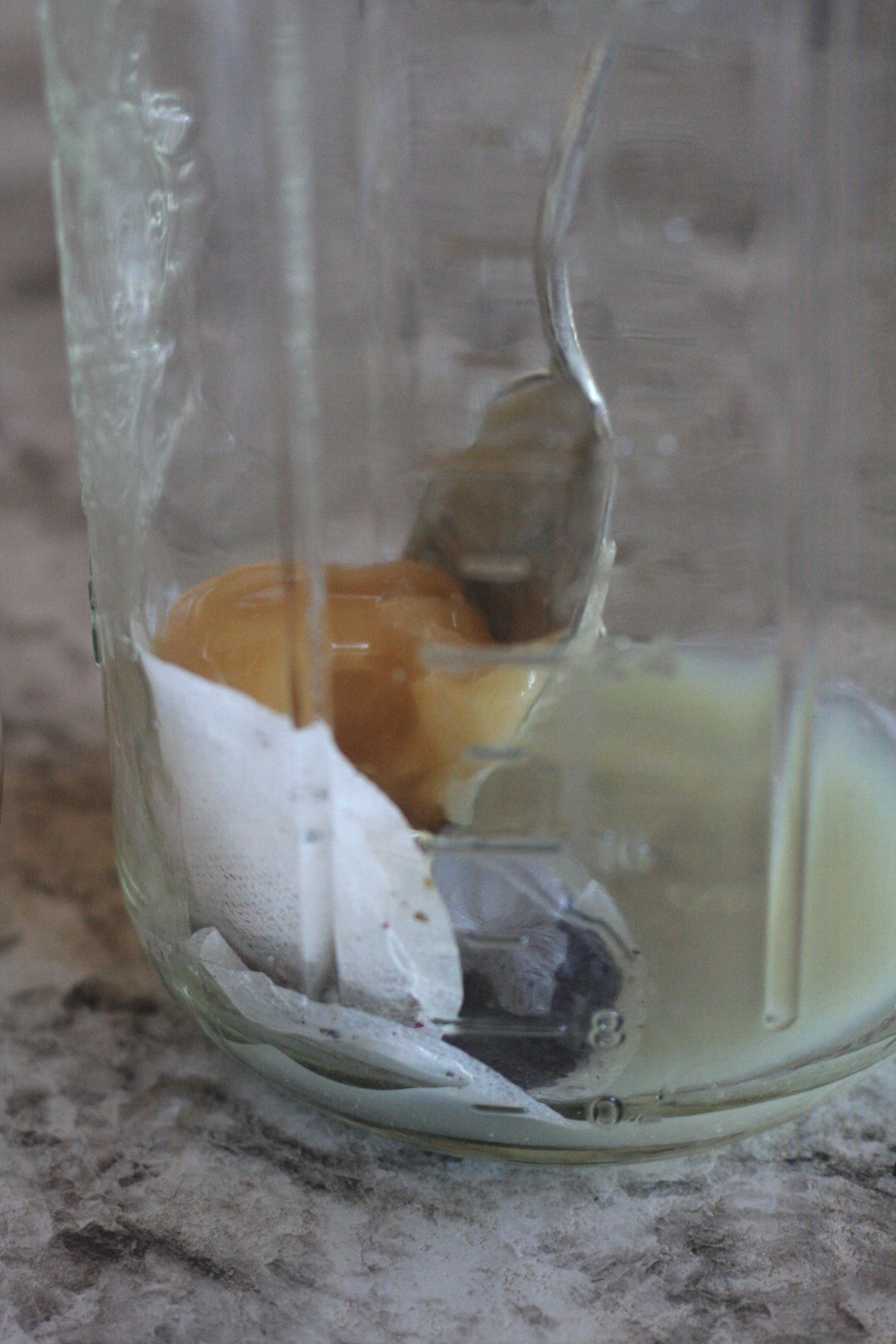 Step 2: Fill with hot tap water to the 1 quart line. Let steep for 15 minutes or so.
Step 3: Remove the tea bags. Now you can add ice and serve or fill up to the 2 quart line and chill in the fridge for later.
Brewing Methods
OK, so over the years I've changed things up a bit. It all depends on how much time you have and how quickly you want a finished glass in your hand!
Cold Brew: Add all ingredients to the jar and fill to 2 quarts with cool water. Stick in the fridge until tomorrow. I can do up to 24 hours with this method, but obviously this is the one if you don't need a drink now. It's perfect for starting a new jar when the current one is just about empty.
Over Ice: Use hot tap water to the 1 quart line and let steep. Remove the tea bags and stir in ice to melt, then top off with cold water once the ice is no longer melting. This is the best way for serving immediately.
Regular: This is my most typical method. Just follow the recipe card and steep over hot water, then add cold water and chill. So this isn't super cold right away, but it works great for making it in the morning to enjoy that evening.
Variations
Some favourite combos of ours are Peach+Black Tea, Wild Raspberry Hibiscus+Mint, Blueberry+Green Tea…the combos are endless, browse the tea aisle and have fun with it.
And I'm just saying if you felt so inclined… Some spiced rum would not be bad.
I like to use Adagio Tea bags as I think the flavour is exceptional. I'm not affiliated with them and they didn't make this coupon FOR us - but if you go to their site I've seen a popup for a $5 coupon if you shop their site. But be aware that you have to entire your email the first time it pops up or else you won't get it again. But I know it gives some people some trouble so just fair warning that it may or may not work.
I absolutely LOVE using jars for everything. They are super versatile! But if you've ever tried to pour from a jar, you know it can be a bit messy. I get asked on Instagram all. the. time. what my lids are and they are Masontops Pour Tops. I really like picking up things such as this that are affordable and make use of what I already have! And then they wait in the drawer if I need the jar for something else.
FAQs
Can I use loose tea?
Definitely! Use an infuser or tea bags you can fill yourself to make sure you can easily fish it all out. You may need to play with the amounts depending on how coarse the tea blend is. 1 tablespoon will be about three tea bags.
Am I ok to use hot tap water?
Personal preference - only you know if you are comfortable drinking hot tap water. It depends on where you live, the age of the pipes and all that. If you aren't comfortable with that then go ahead and boil water in a kettle.
Final Thoughts
Lower or raise the honey. Use a different sweetener. Use different tea. Remember this is a formula! Not an exact recipe. Make it your own! Think back to either jarred drinks you've had in the past and enjoyed or new combos you might like and go for it.
Because of the honey, lemon and sea salt, this is an excellent electrolyte replacement drink. When Marius worked out in the field away from home he would bring 1-2 quarts most hot days to keep himself properly hydrated while working outside.
Classic Homemade Beverages
Hey friends, don't forget to follow me over on Instagram, cause if you like me here, I post there a LOT! I'm also on YouTube with tutorials and Facebook for all sorts of things.

If you like this recipe, I'd love if you reviewed it so others can find it easier. Sharing this recipe on Facebook or Pinterest is another way you can help us out at no cost to you. Thanks, xo Kate
Kate's Honey Iced Tea
Bored with plain iced tea? Pump up the flavour (think glass jarred flavoured tea...) and enjoy honey-sweetened iced tea all summer long!
Ingredients
1-2

fruity tea bags

Celestial Seasonings Peach Passion is our fave

1

black tea bag

or green or mint tea

1

quart

boiling water

2

tablespoons

lemon juice

¼

cup

honey or sugar

no honey for babies!!

2

fat pinches

sea salt
Instructions
In a 2 quart canning jar or other heat proof container, place tea bags, salt, lemon juice, and honey.

Add hot tap water to the 1 quart mark.

Give the tea a little stir and let it sit for 10-15 minutes.

Fill the remainder of the jar with cold water and pop in the fridge until chilled through.
Notes
If using loose leaf tea, 1 teaspoon equals on tea bag on average. If it's coarse/bulky loose leaf, double the amount used. (Like hibiscus is bulky vs. my black tea is a more fine chop.)
Nutrition
Calories:
33
kcal
Carbohydrates:
9
g
Protein:
0.04
g
Fat:
0.01
g
Saturated Fat:
0.001
g
Polyunsaturated Fat:
0.001
g
Sodium:
97
mg
Potassium:
9
mg
Fiber:
0.03
g
Sugar:
9
g
Vitamin A:
0.2
IU
Vitamin C:
2
mg
Calcium:
1
mg
Iron:
0.05
mg