A staple of Marius' childhood, often chosen for birthdays, this popcorn cake is a real treat. When he was in trade school his mom used to send him back to school with care packages of popcorn cake or rice krispie squares and this recipe is like jacked up rice krispie squares.
I find it also easier to make gluten free when needed as popcorn is naturally gluten free, versus searching out gluten free rice krispie cereal.
I feel the crucial element is the jujubes, Marius feels its something chocolate, with his first
choice being chocolate covered peanuts or peanut M&Ms. Really you can use whatever small candies you have on hand, or even chop up large chocolate and candy bars to use. Keep in mind that how much you use depends on preference. Stir some in to see how it looks and you can always add more before spreading it into the pan. Another option is to press some pieces into the top of the cake once it is spread out.
Now that our kids pick their own birthday desserts, this is often chosen. While it wouldn't be
my choice of birthday dessert, it's fast for me to throw together and everyone always loves it,
especially the kids. Even those grown-up kids we call adults. Maybe you're more into a classic dark chocolate cake for your birthday or your family has a "donuts for birthday breakfast" tradition. I make donuts every year for my nephews birthday in February. I'm not sure who looks forward to it most!
Make sure to use a spoon to scrape all the leftover bits of melted marshmallows out of the
bowl and eat!
Popcorn Cake
Popcorn cake is rice krispies treats using what you have on hand. Chocolate, peanuts, whatever candy you have will mix in nicely.
Ingredients
½

cup

butter

10

cups

marshmallows

½

cup

popcorn kernels

popped

4-6

cups

candy

see notes
Instructions
Prep your pan: make a thick cake in a 9x13" pan. For traditional Schat Family Style, grease a bundt pan or angel food cake pan. Whatever you choose, grease it or line with parchment.

Melt butter in a heavy bottom pot on low heat. Add the marshmallows. Stir frequently until all melted.

Pop your popcorn via airpop or stovetop. Pick out any unpopped kernels as to not break teeth!

Mix popcorn and candy in a big bowl. Pour melted marshallow mix over and stir well.

Scoop into your prepared pan, use buttered fingers to press it down.

Let cool, its ready to serve within an hour but you can make the day before, cover and pull out when ready to serve.

To serve- slice and enjoy!
Notes
Mix-ins: Jujubes, jelly beans, M&Ms, Reese's pieces, chocolate covered peanuts all work. The amount is partly on preference and partly that if using bulky things, you'll need more cups vs. smaller things for good coverage.
Nutrition
Calories:
480
kcal
Carbohydrates:
77
g
Protein:
4
g
Fat:
18
g
Saturated Fat:
11
g
Cholesterol:
23
mg
Sodium:
124
mg
Potassium:
16
mg
Fiber:
2
g
Sugar:
60
g
Vitamin A:
294
IU
Vitamin C:
1
mg
Calcium:
63
mg
Iron:
1
mg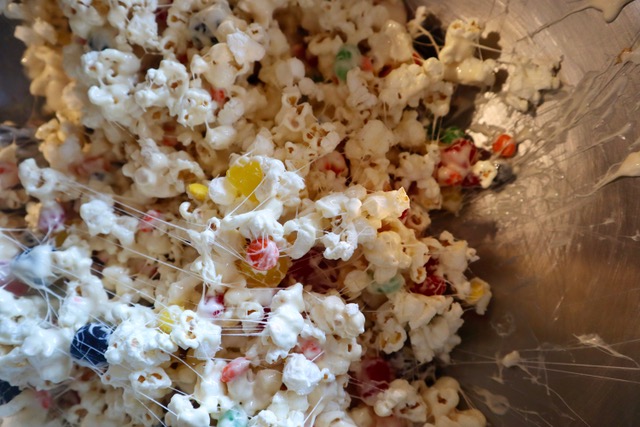 Want to try another Schat Family Traditional Dessert?