Cream cheese is mild in flavour and has SO many uses - why not make your own and skip buying it at the store? It's super easy to do and will store in the fridge a looooong time.
One of the simplest cheeses to make that has a relatively long shelf life in the fridge for fresh cheese, 3 weeks! I appreciate that it takes so little effort AND it uses whole milk, vs cream cheese that uses a lot of cream. And its yield is not shabby- almost 2 pounds from a gallon.
Why You Need This Recipe
SUPER easy to do - straight from the cow! (you can use storebought whole milk too...)
No special equipment needed, just what's already in your kitchen.
High yield of almost 2 pounds from one gallon of milk!
Lasts for 3 weeks in the fridge or pop it in the freezer.
What is clabber culture? Well, it's like the sourdough starter of cheesemaking. If you enjoy natural processes, frugal food, and fermenting, you will enjoy clabber! You can find more about clabber in my FREE clabber cheesemaking course!
Key Ingredients
Whole milk - I make this as a raw milk cream cheese, but my gut tells me pasteurized milk will also work. I just haven't tried it yet.
Clabber culture - Made right from raw milk, much like how you can get sourdough from wild yeast.
Rennet - The clabber acidifies the milk, and the rennet reacts with the acidified milk to get curds!
Salt - For taste and preservation.
How to Use Homemade Cream Cheese
You can take this and make a cheesecake, either baked or unbaked. I think unbaked works best though. I love the recipe in Seven Seasons on Stowel Lake Farm, or you try it with your favourite cheesecake recipe. The internet is your oyster!
You can also add something like my ranch dip mix, I'd say same proportions of 1 tablespoon mix to 1 cup cream cheese, and make it herb and garlic cream cheese! What an inexpensive way to make a whole lot of a high-value grocery item. That would also make a good gift, or make it to serve at a party with fresh bread. You can also make a Taco Dip - you just might want to use the mixer to fluff up these dips while stirring in the seasoning so they are easy to enjoy.
How to Make Clabber Cream Cheese
Step 1
Have your milk straight from the cow or warmed up. Then dissolve the rennet in water and stir into the milk.
Step 2
Add a cover to the jar or pot and let it sit overnight.
Step 3
Cut into curds and gently pour into your cloth for straining. Hang this up however you like to catch all the liquid that will drain.
Step 4
Pour the cheese into a bowl and add salt for preservation. If you know you will be using this with salty things like dip mix, you can skip the salt here.
Step 5
Store in the fridge or freezer and enjoy!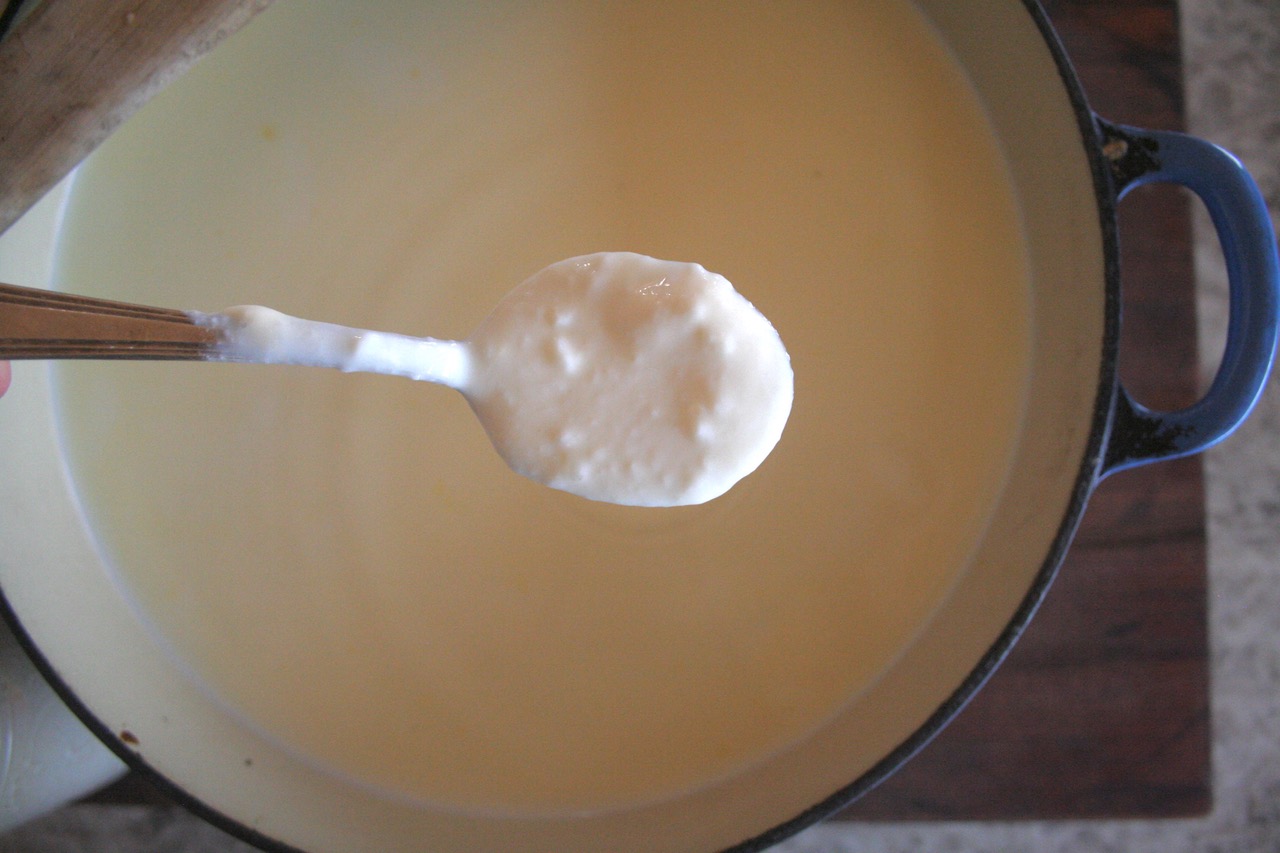 Tips and Substitutions
Start this cheese in the evening, that's your best timing in my opinion. I prefer to make it with milk still warm from the evening's milking but you can just as easily warm up milk for it. I just love the process of taking a fresh warm gallon of milk from my cows and starting a batch.
I've got an Instagram reel walking you through making this cream cheese as well!
FAQs
Can I freeze clabber cream cheese?
Cream cheese freezer really well, just use a freezer safe container. I prefer wide mouth pint jars, just label and pop in the freezer.
What's best for straining cheese?
I definitely stick with a light tea towel. These have a smooth weave so they won't add lint to the cheese, and they let the liquid drain out but the cheese doesn't STICK to the towel. Although they make "cheesecloth" it really serves no purpose in this kind of cheesemaking!
What if i don't have clabber?
If you'd like to use freeze dried cultures check out How to Make Quark for step-by-step instructions.
Why doesn't my cream cheese turn out like store-bought?
Friend, a quick read of store-bought cream cheese ingredients would tell you why you cant and dont want to make that cream cheese! Find recipes that work for homemade cream cheese, and transition the store-bought 'cream cheese' out of your house!
Clabber Culture Cream Cheese
This simple to make soft cheese is versatile and has a shelf life of 2-3 weeks, which is fairly long for a fresh cheese!
Ingredients
1

gallon

whole milk

warmed to 85F

2

tablespoons

clabber culture

2

drops

animal rennet

2

tablespoons

water

1

teaspoon

salt
Instructions
Once your milk has reached the proper temperature, stir in the clabber culture.

Add the two drops of rennet to 2 tablespoons of water and stir, then mix it into the pot of milk.

Cover your milk and let it sit around 12 hours, or overnight. I usually average 14 hours by the time I get around to dealing with it the next morning.

I prefer to use cotton muslin fabric, actual cheesecloth is awful! You'll need about an 18" square or bigger to strain a gallon of milk. I drape it in a bowl or pot, and then scoop the cultured cheese into the cloth.

Take the corners and tie it up, then hang the cheese, overtop of the bowl/pot, in whatever fashion you can mcgyver. From a pot rack...from a cupboard knob...on a wooden spoon hung between two cupboard handles.

Let it strain 6-8 hrs. If you're making bigger batches you'll need to err on the longer side. On the shorter side yields a softer cheese.

When it's done hanging, take the cloth down, dump it into a bowl and stir in your salt. If you're using a premixed seasoning like ranch dip mix, don't add additional salt.

The salt acts as a preservative so unless you plan to use it within a day or two, I highly recommend salting it.

Put it into a container in the fridge, and get excited to use it!
Notes
It's "about" 3 ½ blocks of cream cheese, so use accordingly in your recipes. You'll just be watching for the recipe to be the right texture that you are used to with store cream cheese.
Nutrition
Serving:
1
oz
Calories:
82
kcal
Carbohydrates:
6
g
Protein:
4
g
Fat:
4
g
Saturated Fat:
3
g
Polyunsaturated Fat:
0.1
g
Monounsaturated Fat:
1
g
Cholesterol:
16
mg
Sodium:
135
mg
Potassium:
204
mg
Sugar:
7
g
Vitamin A:
221
IU
Calcium:
168
mg
Iron:
0.001
mg