Reminiscent of an animal cracker in taste, albeit softer, these honey "sugar cookies" are a delight to make and eat. I like that the recipe doesn't require large amounts of honey, so cost wise it's not an expensive refined-sugar-free treat.
A couple weeks ago, I sent this recipe to my friend Marissa asking if she wanted to try them gluten free, as her family eats fully gluten free due to a celiac in the family. She made them the next morning, and on the second try she had them figured out!
A friend asked me if they are more of a "chewy" or "crispy" sugar cookie and it could be either, depending on how long you bake them for. I also love to make gingerbread cut-outs for a fun option.
We enjoy these just on their own as little cracker cookies, not overly sweet but deliciously "more-ish" as my Grandma would say. I don't feel too guilty having these around for the kids to snack on. They are also perfect for freezing so you don't find yourself eating too many at once.
While we do enjoy them plain, if you need a vehicle for dressing up and decorating at Christmas, Valentines, Easter, etc…these are just the ticket! Just whip up your favorite frosting and go to town with the sprinkles. Both you and the kids will have a blast. (Okokok sometimes it makes me want to spike the eggnog too ?)
This is definitely an all day sort of recipe. You'll want to give the dough time to chill in the fridge so that it's easier to roll and cut. Do keep watch of the time though, as you don't want them in there too long. You can make it the night before, but then just let it rest on the counter a bit before rolling out so it isn't too firm.
Why You Need This Recipe
Some cookie recipes just have so much sugar in them! I'm not against sugar in treats, but I know that my family just doesn't do well on too much refined sugar.
These are easy to make, fun to decorate, and freeze well.
Family fun!
Key Ingredients
Flour - Regular all-purpose here. I always pick up a bulk bag for easy baking like this.
Butter - Unsalted is best for baking, but if you have salted then omit the added salt in the recipe.
Honey - No need for super fancy kinds, just whatever honey your family loves!
How to Make Cut Out Cookies
***See recipe card below for precise measurements and instructions.***
Step 1: Cream honey and butter until light and fluffy. Add egg, vanilla, and salt and combine.
Step 2: Add flour and mix until a soft dough forms.
Step 3: Chill dough for 30 minutes and preheat the oven.
Step 4: Roll out the dough to desired thickness.
Step 5: Use cookie cutters, or simply use a glass or knife.
Step 6: Bake until golden. If you chilled it then they won't spread out and you can pack your baking sheet.
Tips and Tricks
Make sure and chill the dough for a minimum of 30 minutes - this way they won't spread when you bake them.
Once you do chill the dough, you'll need to warm it up just enough to roll it smoothly. You can't do that straight out of the fridge.
No cookie cutters, no problem! Use a jar or glass to make circles. Biscuit cutters will work, and worst case you can cut them into squares with a knife.
Substitutions
I haven't tested these with using any other fats, so I can't say for sure it would work. I'd say vegan buttery sticks would work, but these are a honey cookie so there's really no substitute there. But you can definitely sub in gluten-free flour.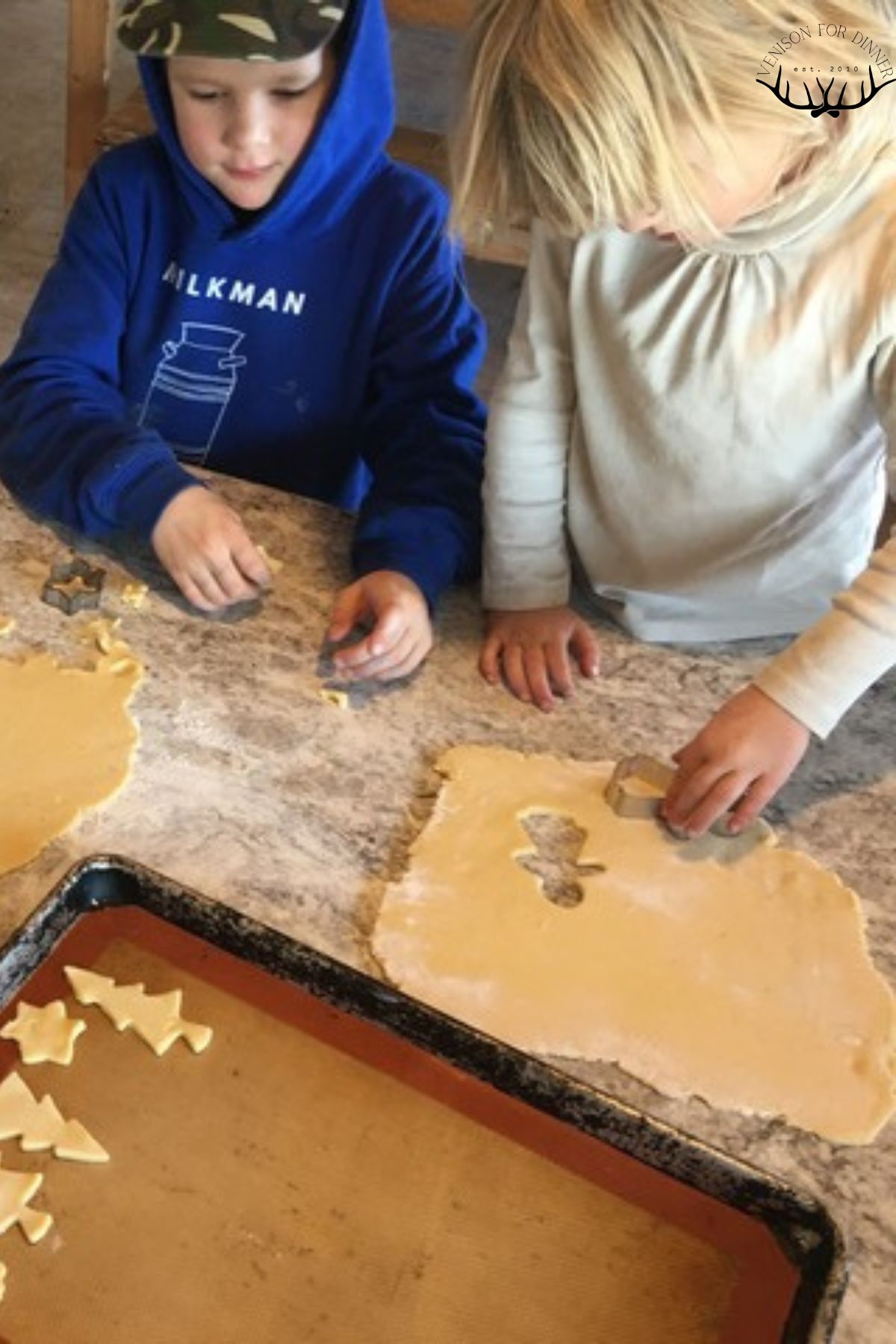 FAQs
Can I make these gluten-free?
Use a one-to-one GF flour that's marketed as an all-purpose flour replacement. You shouldn't have any trouble doing that and still get some really great cookies!
How do I decorate these cookies?
We love to eat them as more of a cracker, or like animal crackers, just plain. But you can frost them with any sort of icing you prefer. Add sprinkles and candies for a great holiday treat.
How do I store leftover cookies?
Cookies are the perfect freezer food. Make them in advance of the holidays to get the baking done and out of the way. Freeze in containers once cooled so they don't get broken. If you want icing and such, don't do that until you thaw them out.
photos by Kiara Colebank
More Cookie Recipes
Hey friends, don't forget to follow me over on Instagram, cause if you like me here, I post there a LOT! I'm also on YouTube with tutorials and Facebook for all sorts of things.

If you like this recipe, I'd love if you reviewed it so others can find it easier. Sharing this recipe on Facebook or Pinterest is another way you can help us out at no cost to you. Thanks, xo Kate
Honey Sweetened Holiday Cut Out Cookies
Enjoy your holiday with these sugar cookies. Using honey makes them naturally-sweetened (no refined sugar here!) and you don't use a lot so they are cost-effective.
Ingredients
1

cup

unsalted butter

softened/at room temp

½

cup

honey

1

large

egg

1

teaspoon

vanilla

2 ½

cups

all-purpose flour

½

teaspoon

salt
Instructions
In the bowl of a stand mixer, or with a hand mixer, beat honey and butter until well combined, scraping the bowl a few times if needed. Add in egg, vanilla and salt, mix well. Mix in flour until well combined.

It will still be a little sticky but scoop it into a container and chill for 30-60 minutes (If it ends up in fridge overnight, you may need to let it sit on counter a bit to warm up as it may be too firm…)

Divide dough in half and roll dough out on a floured surface to ¼ inch thickness. Cut out your desired shapes, and transfer to cookie sheets lined with parchment or silpats. Re-roll scraps and cut out some more!

Bake for 8 minutes, turn trays around, and bake another 5 minutes, until edges are just getting gently browned. If you want them crispy and not chewy, bake a few more minutes.

Cool, decorate to your hearts content, and enjoy!
Notes
I fill 3 half-sheet pans with this batch of dough, which is approximately 5 dozen cookies for me. It depends on how big you make your shapes, but hopefully this gives you a good idea of yield.
Nutrition
Calories:
56
kcal
Carbohydrates:
6
g
Protein:
1
g
Fat:
3
g
Saturated Fat:
2
g
Cholesterol:
11
mg
Sodium:
21
mg
Potassium:
9
mg
Fiber:
1
g
Sugar:
2
g
Vitamin A:
99
IU
Vitamin C:
1
mg
Calcium:
2
mg
Iron:
1
mg