Raw egg nog isn't anything to be afraid of. Using ingredients from your farm or a trusted source, you can make a delightful holiday treat.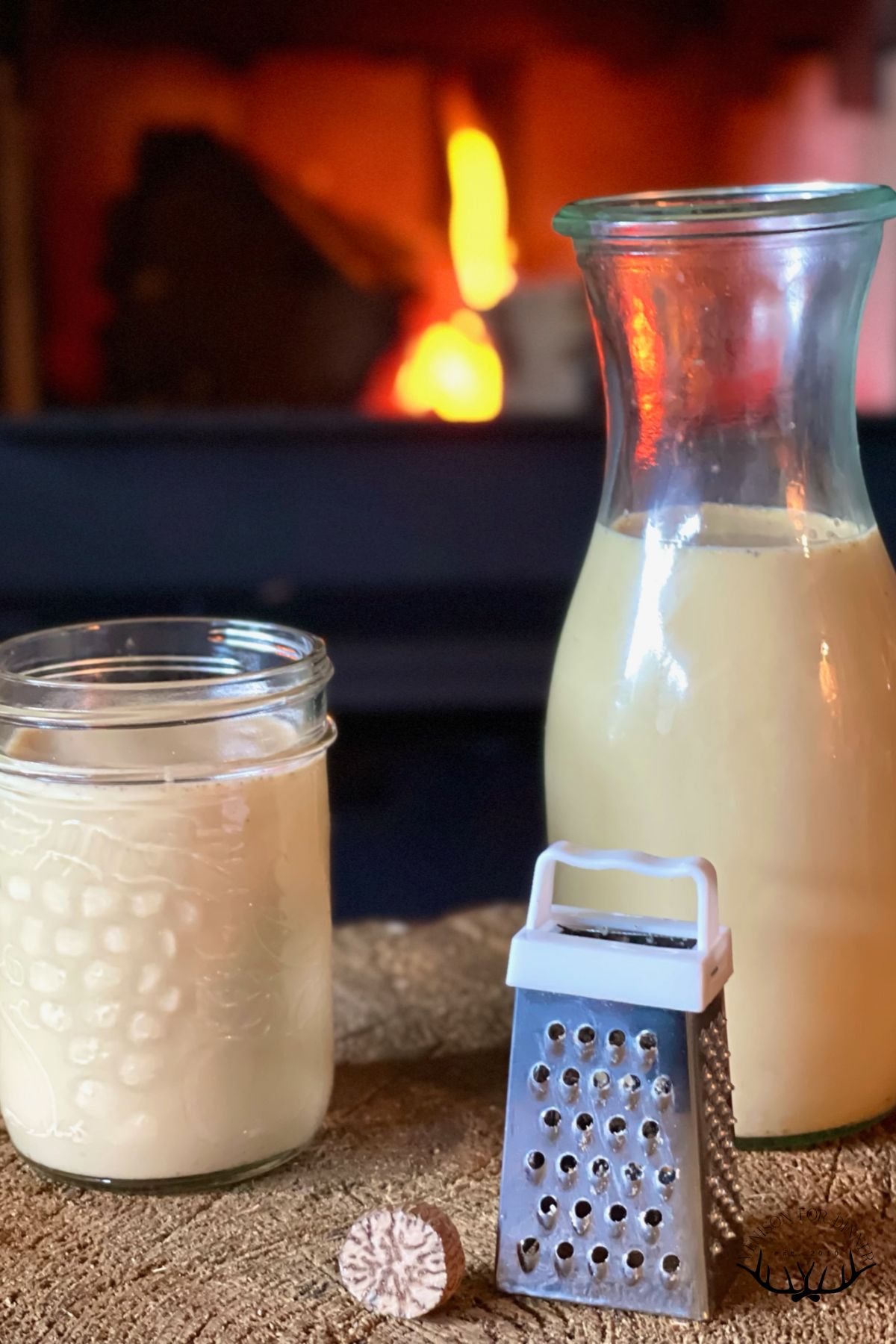 Does egg nog make you think of a super thick, cloyingly sweet concoction? It can give me a bit of a stomach ache, truth be told. Skip the questionable ingredients and make your own! Raw eggs and milk will give you a great boost of nutrition, as well.
Nothing much beats a nice cool mug of egg nog at the holidays. Honestly, it's just a great warming winter drink at any time! This version contains alcohol, and I don't recommend leaving it out, so this one's not for the kids. Make them their own hot chocolate mix to keep 'em happy!
I highly recommend making your own Irish cream before making egg nog. Generally people are making these sorts of recipes to avoid questionable ingredients, so why wouldn't you make all parts from scratch? I've done it both with sweetened condensed milk or made it more natural with maple syrup. Go with whichever is in your comfort zone - and yes, you can of course use the bottle from the store as well.
Why You Need This Recipe
Farm fresh eggs and milk? Yes, please!
The perfect party drink you can make even after guests arrive!
Lasts in the fridge up to 2 weeks, so it's easy to make it ahead.
Key Ingredients
Milk - keeping our own dairy cows means we almost always have fresh, raw milk on hand. Use it "whole" here! You can also buy whole milk at the store.
Eggs - quality is really key here, since you are consuming these raw. I have no qualms about eating eggs from our own chickens.
Alcohol - some question if this is true, but even the Bailey's bottle doesn't require refrigeration. The alcohol will help preserve the milk some, but we are also using super fresh ingredients as well as refrigerating. I use Bailey's plus a bit of extra whiskey.
Nutmeg - if you don't keep whole nutmeg on hand, I encourage you to look into that. Whole spices stay fresh longer, and it's so easy to grate your own. You truly will taste a difference!
How to Make Raw Egg Nog
***See recipe card below for precise measurements and instructions.***
Step 1: Add all ingredients to a large mixing bowl and whisk well.
Step 2: Alternately, use a blender to whip everything up. Make sure your blender is large enough for the ingredients to expand while blending!
Step 3: Store in an airtight jar or pitcher in the fridge for up to 5 day. Give a little shake before serving.
Tips and Tricks
Make your own Bailey's - it's well worth it!
Always use fresh eggs from your or a friend's farm.
Whole milk is key here for the perfect, rich drink.
FAQs
How do I use whole nutmeg?
Most people have a classic 4-sided box grater lying around. Use the smallest side that looks like little stars. Another great kitchen tool is a microplane zester. This tool will be great to have on hand for spices, hard cheeses, garlic, citrus, etc.
Is this egg nog safe to consume?
With the disclaimer that I am not a doctor, yes. Especially if you are used to producing most of your own food, this drink will fit right along everything you normally consume. Use common sense when using raw milk and eggs, and know your sources if they aren't your own farm. But I guarantee this is the way things used to be done before you could pick up egg nog at the store!
Can I make this dairy-free?
You really need the fat content of the whole cow's milk here, and the Bailey's itself also contains dairy. I don't recommend altering this recipe if you can help it, as the ratio of dairy to alcohol is what helps it keep well for a few days.
Photos by Dante from Shire by the Sea
More Drink Recipes to Enjoy
Hey friends, don't forget to follow me over on Instagram, cause if you like me here, I post there a LOT! I'm also on YouTube with tutorials and Facebook for all sorts of things.

If you like this recipe, I'd love if you reviewed it so others can find it easier. Sharing this recipe on Facebook or Pinterest is another way you can help us out at no cost to you. Thanks, xo Kate
Raw Egg Nog
Nothing beats using farm fresh ingredients to make the quintessential holiday drink!
Ingredients
3

cups

raw whole milk

may use whole milk from the store

1

cup

homemade Baileys

2

oz

whiskey

optional, but we like a little extra kick!

8

farm fresh eggs

quality matters here, you're eating them raw

Fresh grated nutmeg to taste

about ¼-1/2 teaspoon
Instructions
Add all ingredients to a large mixing bowl or the jar of a blender.

Whisk or blend until totally combined and frothy.
Notes
Because of the alcohol, this will keep in the fridge for up to 5 days. Use your nose to determine freshness!
I really don't make this without the alcohol. There's a decent amount of it in here so removing it will upset the egg to milk/liquid ratio.
Nutrition
Serving:
1
cup
Calories:
316
kcal
Carbohydrates:
25
g
Protein:
11
g
Fat:
10
g
Saturated Fat:
4
g
Polyunsaturated Fat:
1
g
Monounsaturated Fat:
3
g
Trans Fat:
0.02
g
Cholesterol:
233
mg
Sodium:
133
mg
Potassium:
264
mg
Sugar:
25
g
Vitamin A:
514
IU
Calcium:
183
mg
Iron:
1
mg