In the summertime, before we have a plethora of fresh fruit to use, it's hot, and we want popsicles!
To me, popsicles are more than just your food-dye-sugar-laden ones you grab at the grocery store. I see them as a way to nourish my kids on a hot day when food doesn't seem appealing. They're fun, and as someone who never wants her kids to feel like they had a crunchy hippy upbringing and "myyyy mom never buys us ice pops," I think its fun to try different flavours beyond your basic "freeze your leftover smoothie" option.
While we are a dairy loving family, these are delicious and it's a great option to have in your repertoire for if you are serving dairy free kiddos. The fewer ingredients you use in recipes, the easier it is to confirm people can eat them. You also get some great healthy fat into your kids with creamy canned coconut milk.
One of the most helpful things in my kitchen is having "formulas" above recipes. One I can take and use in every which way I want, depending on what I have on hand, what I'm in the mood for, what needs to be used. That's this recipe - use it as your launching point!
Depending on your berries, you may want to sweeten this. If you're not dairy free, you can easily just use milk from whatever lactating animal toots your horn. When the cow is dry, it's so handy for me to use a can of coconut milk for popsicles, but when their milk supply is bumpin' you know I'm using that fresh creamy milk! You can also add some kefir or yogurt if that's your jam. Just make sure and taste your mixture before pouring into the moulds. While I don't normally sweeten our smoothies to drink right away, I find that if the popsicle mixture isn't sweet to taste before freezing, the popsicles can turn out sour.
We rely heavily on frozen fruit at this time of year, as the fruit shipped to stores is disappointing and we want to make sure we're using up any fruit still hanging out in the freezer from last year! Grab whatever you've got in there and add to your mixture. Sometimes if I'm using a bulkier fruit like sliced peaches I'll use closer to 3 cups of fruit. Once you make this a few times you'll know what your best pre-frozen texture is and you'll feel better about using substitutes.
What I love about this popsicle mould is the kids can take the popsicles outside (less mess!!!) and just chuck the stick in the bushes when they're done. There is no need for me to hunt down popsicle tops all over the yard…mama don't got time for that! It also makes 10, which is more than average, AND each holds ⅓ cup, instead of ¼ cup like any other I'd had before. Plus they look really cute!
This mould needs a fat 3 cups mixture total, and many blenders have the lines right on there so you'll know if you've got enough mixture before you start pouring. If I overshoot it, I just enjoy drinking the extra, cooks privilege! Again, make sure these taste sweet enough and are creamy before you freeze or they'll turn a bit icy or taste sour and you'll be sad.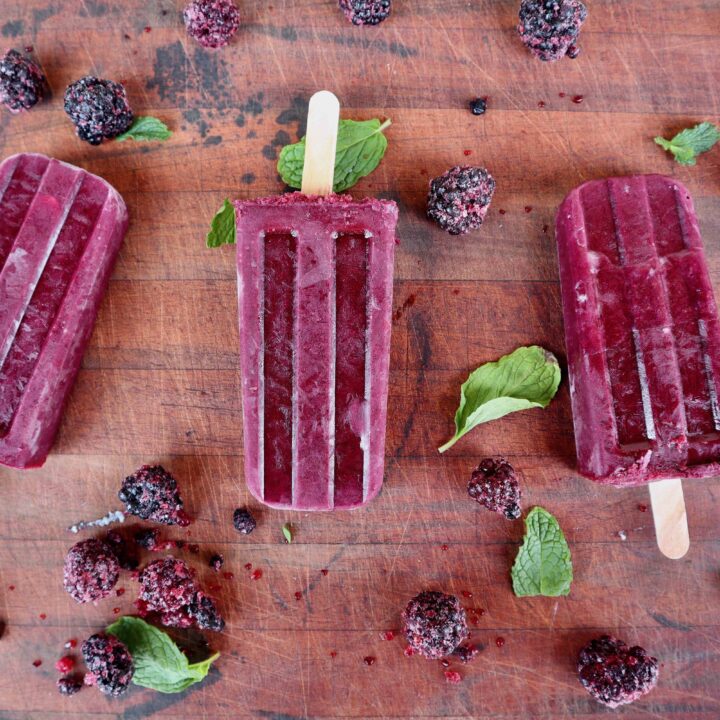 Dairy Free Berry Cream Popsicles
Using frozen fruit is a great way to enjoy sweet summer desserts without excess sugars and unnecessary dyes. The kids will go crazy for these.
Ingredients
2.5

cups

frozen berries

14

oz

canned coconut milk

400 ml

7

oz

water

fill your coconut milk can halfway

2-4

tablespoons

sugar, honey, or maple syrup

optional
Instructions
Add all ingredients to a blender and combine until smooth.

Pour the mixture into the popsicle mould.

It should be thick enough to just pop the sticks in, but my mould doesn't have a lid so if the mixture isn't thick enough, I put it in the freezer, set a timer for an hour, then pop the sticks in. You will think you will remember…you won't!

When frozen solid, they're ready to enjoy.

To remove a popsicle, run the mould under hot tap water, or let it sit at room temp for about ten minutes, then gently pull the popsicle loose.

You can always take them all out and pop into a bag in the freezer, so the mould is free to make other popsicles.
Notes
My popsicle mould holds ⅓ cup in each cavity, and this recipe makes 10 popsicles that size. Fill your moulds accordingly!
Nutrition
Calories:
120
kcal
Carbohydrates:
9
g
Protein:
1
g
Fat:
10
g
Saturated Fat:
8
g
Sodium:
7
mg
Potassium:
125
mg
Fiber:
2
g
Sugar:
7
g
Vitamin A:
18
IU
Vitamin C:
2
mg
Calcium:
10
mg
Iron:
1
mg
I'm sharing this delicious recipe now to tease you about my upcoming eBook! It will have four brand new popsicle recipes in it so definitely try this recipe out to get ready.
More Fruity Favourites