I love to butcher my own to create the perfect meal portions for my family. Moose is no exception - I enjoy cutting a few really nice steaks for the family to enjoy as a nice dinner.
We are a hunting family, and love to make sure we are using every single scrap of the animal that we can. That means starting out with lovely big roasts or steaks, dicing up the tougher portions to slow cook in stew, and finally grinding up all the rest. Today, let's learn how to griddle a moose steak!
Why You Need This Recipe
I guarantee you can have a tender, juicy result with the secret addition at the end!
Simple pantry seasonings are all you need to add flavour.
You can cook this inside or outside, so it's perfect year-round.
Key Ingredients
Moose - I focus on moose steak here, but you absolutely griddle/grill any sort of big game steak. I use around a half pound per steak for easy grilling.
Rosemary - I combine a few key pantry ingredients, but the main seasoning here is rosemary, which pairs really nicely with game.
Butter - Doesn't butter make everything better? This is the key to adding moisture at the end so your game isn't dry or tough.
Vinegar - Never white vinegar - reach for whatever nicer vinegars you keep on hand, or a bit of alcohol to make a bangin' pan juice.
How to Make (Keyword)
***See recipe card below for precise measurements and instructions.***
Step 1: Combine the spices in a small bowl, and then rub into the surface of the steaks. Let them rest at room temp.
Step 2: Place the steaks on a hot Blackstone flattop or in a cast iron pan over medium high, with just a touch of oil.
Step 3: Cook until desired level of doneness, being sure not to go too far into well done territory or they will be too dry.
Step 4: Remove steak to a platter or baking dish to rest. Splash in some vinegar to your cast iron pan to create a quick pan gravy.
Tips and Tricks
Use a high heat oil since we are cooking over high, almost smoking heat.
While your grill is hot, throw on some potatoes, too.
Always cook from room temp. This ensures they will cook evenly and also not be on the heat too long.
FAQs
What are high heat oils?
Your best bets are to use a bit of avocado or sesame oil as they have high smoke points. I'm not a huge fan of seed oils, but you are only using a little bit and I never want you to go buy something special so canola oil is also a high-heat option.
What vinegar is good to use for pan gravy?
Reach for balsamic, sherry, white or red wine, rice wine, anything like that. Just not your regular old white vinegar! Any favourite drinking wine (red or white), or sherry or port also work well here. Just keep in mind that you aren't cooking this any longer, so alcohol content will remain in the gravy.
How do I know my steak is done?
Easy! This is the secret many chefs use, because you obviously can't see what's going on inside and you don't want to cut into the steak and lose all the juices!
-Thumb+Forefinger = Rare
-Thumb+Middle finger = Medium Rare
-Thumb+Ring finger = Medium
-Thumb+Pinkie finger = Well Done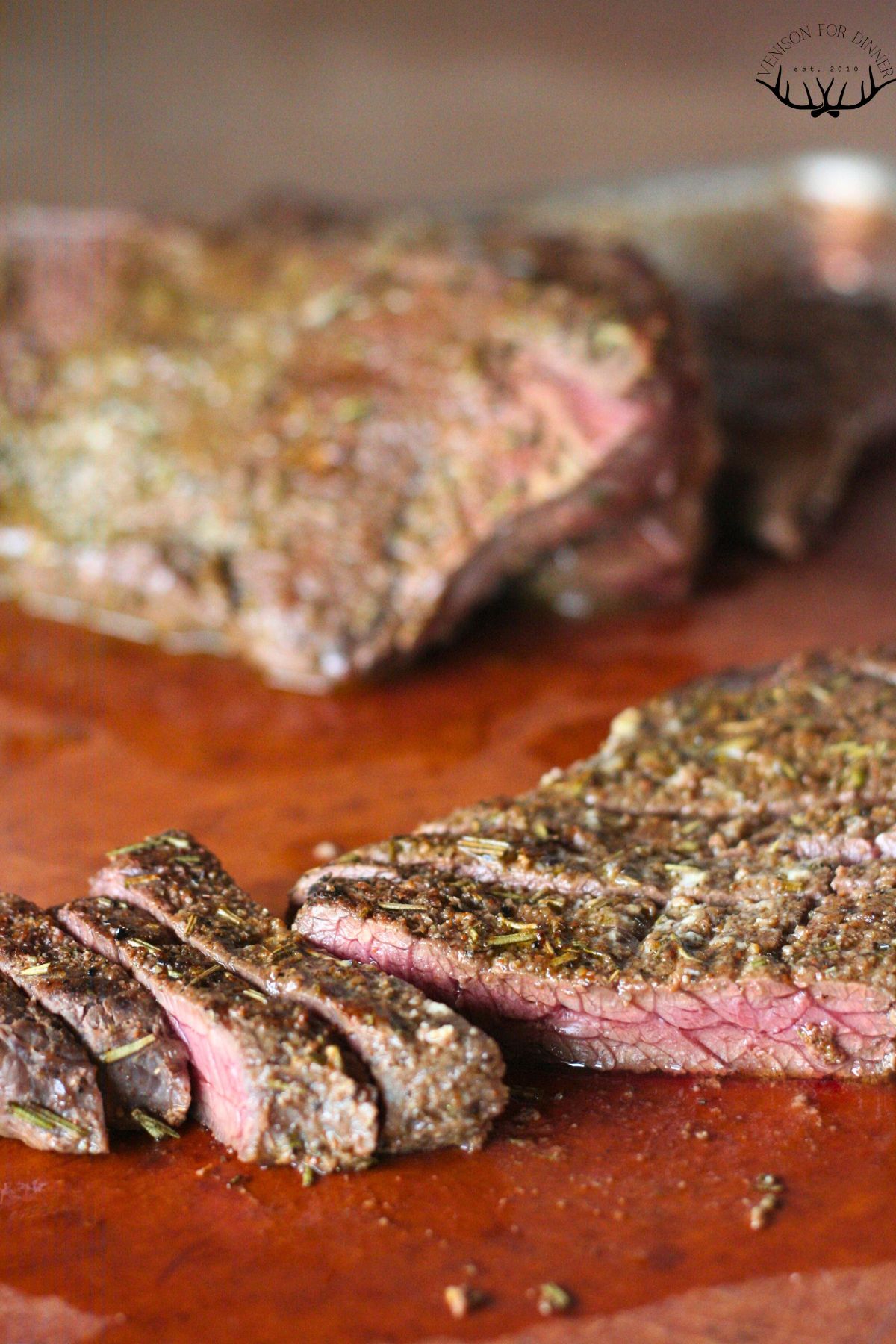 More Wild Game Recipes
Hey friends, don't forget to follow me over on Instagram, cause if you like me here, I post there a LOT! I'm also on YouTube with tutorials and Facebook for all sorts of things.

If you like this recipe, I'd love if you reviewed it so others can find it easier. Sharing this recipe on Facebook or Pinterest is another way you can help us out at no cost to you. Thanks, xo Kate
Moose Steak
Fire up the griddle or cast iron and get your moose steak ready! This method gives you a tender and flavorful moose steak to enjoy.
Ingredients
2

lbs

moose steaks

1

tablespoon

rosemary

1

teaspoon

sea salt

1

teaspoon

garlic powder

½

teaspoon

smoked paprika

½

teaspoon

black pepper

1

teaspoon

butter per steak

optional
Pan Gravy (optional)
1

tablespoon

vinegar

any kind EXCEPT white vinegar
Instructions
Steaks cook best when not super cold, so make sure they're completely thawed. Mix up the spice mix, rub on the steaks, and let them sit on the counter for 30 minutes to come to room temp.

I'm using my Blackstone griddle but this is exactly the same as on cast iron (if you want to grill these, it will work just like my venison steak recipe.

Heat cast iron or griddle on medium high. Add a bit of high heat cooking oil; it doesn't need much.

Add your steaks to the hot pan and cook for 2-3 minutes for skinny steaks (less than ½"), 3-4 minutes for medium,(½-3/4" thick) 5-6 minutes for thick steaks (1"+ thick).

Flip your steaks, and cook for the same amount of time, but on the lower end of it, start feeling your steaks. What do I mean by feeling my steaks?? See the notes below.

When your steaks are done, take them off the pan onto a plate or glass baking dish, and dollop butter on each steak, if you're using. Because game meat is on the drier side vs beef, I find by adding the butter it makes really nice pan juices that compliment the steak.

Want to kick it up another notch? Add a tablespoon of your favourite vinegar (not white!!) or alcohol to the pan juice/butter mix, stir around, and drizzle on your steaks.

Because it's not cooked anymore at this point, the alcohol will have alcohol content, so keep that in mind with who you're serving.

Slice, and serve!
Notes
Use a splash of vinegar or alcohol to complete a pan juice.
Use the feel of the heel of your hand for steak doneness.

Thumb+Forefinger = What cooked to Rare feels like.

Thumb+Middle finger= What cooked to Medium Rare feels like.

Thumb+Ring finger= What cooked to Medium feels like.

Thumb+Pinkie finger= What cooked to Well Done feels like.
Nutrition
Calories:
313
kcal
Carbohydrates:
1
g
Protein:
52
g
Fat:
10
g
Saturated Fat:
5
g
Polyunsaturated Fat:
1
g
Monounsaturated Fat:
3
g
Trans Fat:
0.2
g
Cholesterol:
204
mg
Sodium:
730
mg
Potassium:
745
mg
Fiber:
0.4
g
Sugar:
0.05
g
Vitamin A:
265
IU
Vitamin C:
0.3
mg
Calcium:
22
mg
Iron:
8
mg