Dinner rolls are sometimes the best part of the meal. Your family will go crazy over these soft and light dinner rolls that are brushed with butter.
I have tried my fair share of sourdough buns...while they are delicious, they are often way too dense. Too chewy. Or take way too much effort to make. These buns are based on my Soft Sourdough Master Recipe, which makes it easy to learn how to work with sourdough!
Why You Need This Recipe
I think most people call the bread the best part of the meal? I know lots of times my kids do, and they can use all the healthy carbs they can get for filling rumbling tummies.
This dough is the basis for SO many fun recipes - once you make it you'll know how to make Cinnamon Buns for breakfast or crusty French Bread with pasta.
It may seem like a long time (upwards of 14 hours!) but it's mostly hands-off except for mixing and shaping.
Key Ingredients
Sourdough starter - If you're familiar with sourdough, you want to use it in this recipe once it has doubled. It can even be falling/on the way to discard. Yup, you don't even need "optimal bread-ready starter" to make these perfect!
All-purpose flour - This makes the best, soft texture. There's a time and place for whole wheat and other grains, but soft dinner rolls need regular flour.
Honey - To feed the wild yeast!
Milk - Any type you have on hand here is great. The 'buttermilk' from making butter. Almond milk. Raw milk. Just something to hold the dough together.
How to Make Sourdough Rolls
See the recipe card for full details and measurements.
Step 1
Make your pre-ferment to sit all day or up to overnight.
Step 2
Melt the butter in a saucepan, then add the milk to heat. Add to your mixer with the preferment.
Step 3
Continue mixing in flour, resting, and kneading, until you have a cohesive dough. Let rest until doubled, or up to overnight.
Step 4
Punch down and let raise again. Yup, we are getting lots of volume for the perfect crumb.
Step 5
Gently roll the dough into a rough rectangle and cut into 24 equal pieces.
Step 6
Shape the rolls. I like to stretch it smooth and tuck the ends under and pinch. This gives us the perfect roll shape.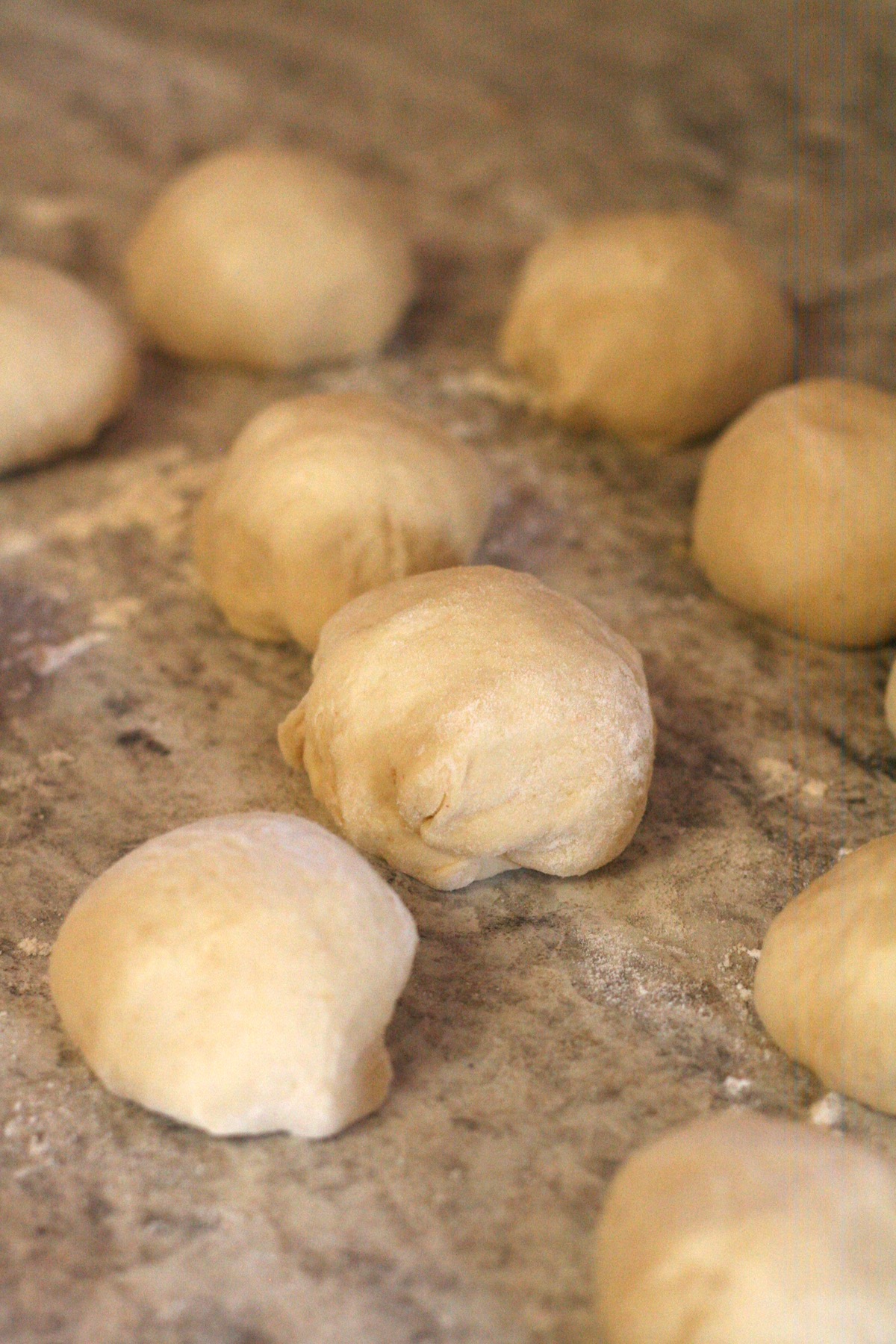 Step 7
Place on your prepared pan and do a final rise while the oven preheats.
Step 8
Bake until golden and ready! They should sound hollow when tapped or have a temperature of 190F. Finally, brush some butter on top of the finished rolls for the perfect, soft crust.
Tips and Tricks
In my extensive testing of this recipe, I have found if you are doing an overnight rise, you can skip the autolyze rest before kneading AND skip the first punch down and rise. Just mix, knead, let it rise, punch down and shape in the morning.
Don't forget the butter on top of the warm rolls. This is key to keeping them soft, and adds another layer of delicious.
Bake in a rectangle pan for pull-apart rolls with soft sides, or spread apart individually on a baking pan for crusty rolls.
Substitutions
Use whatever sweetener you have on hand. Honey and maple syrup are perfect or use twice as much of granulated sugar.
These can easily be made dairy-free. Just use coconut oil and any non-dairy milk in the dough. As for the finish, you can find vegan buttery sticks in the dairy department or just skip that step.
FAQs
Can I use sourdough discard?
You want starter that's still fairly active, so save the discard for other recipes like pancakes. You can use starter that wants to be fed but is still healthy.
How else can I shape the dough?
This dough also works great for hamburger or hotdog buns. Just cut them into fewer pieces and shape accordingly. I do like to press them down flatter before baking or else they are too tall once you fill 'em up!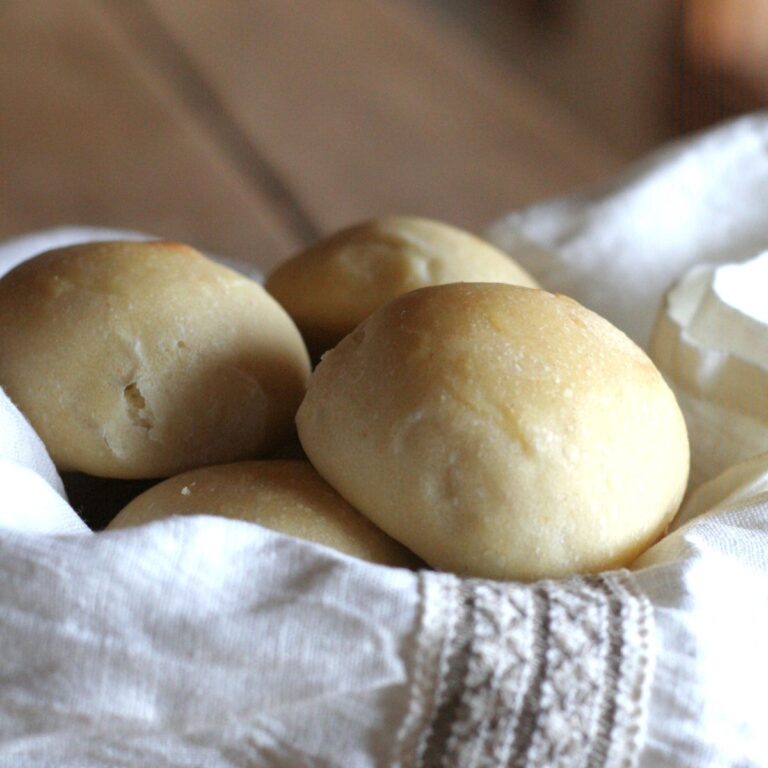 Easy, Soft Sourdough Rolls
This one sourdough bread dough can be made into loaves, french bread, cinnamon buns or buns, all soft and fluffy like you didnt know sourdough could be.
Ingredients
Pre-Ferment
½

cup

sourdough starter

it needs to have doubled, but can be falling and needing to be fed, it does not need to be at 'optimal bread baking state'

½

cup

warm water

⅔

cups

all-purpose flour
Dough
Pre-ferment from above

1

tablespoon

butter, coconut oil, or olive oil

1

tablespoon

honey

sub 1 tablespoon honey for 1 tablespoon maple syrup or 2 tablespoon sugar

1

teaspoon

salt

¾

cup

milk (save buttermilk from making butter for this if you have it!)

sub non dairy milk or yogurt/cultured buttermilk watered down to to milk consistency.

2 ¼-2 ¾

cup

all purpose flour

Butter

to brush on top after baking
Instructions
I recommend reading the blog post before the recipe, there is some different steps here that may feel confusing, but are explained in the post. Happy Baking!
Pre-ferment
Mix the pre-ferment of sourdough starter, flour, and water up 8-24 hours before you want to bake. The longer beforehand, the more sour your end product will be. If I plan to mix the dough in the morning, I make it before bed. Cover with plastic wrap or a plastic bag and let sit on the counter.
To Make the Dough
Melt butter, honey, and salt on low in a saucepan. When it's melted and combined, turn off the heat, add your milk, and stir to combine. With a thermometer or your finger, test the temperature of the mixture. By thermometer, it should be no more than 105F. By your finger...you should be able to comfortably hold it in for 10 seconds. If it's not this warm, turn the heat back on to warm it. If I use a heavy bottom pot, there is enough residual heat to heat the milk, if I use something like a thin enamel pot, there isn't.

Add the warm liquid to your mixer (or bowl you plan to mix the dough in) and add your pre-ferment.

Stir to combine; it's not going to combine super well until you start adding flour.

Add your flour, starting on the low end, and mix the dough, adding more flour as needed just until it's combined, but not a cohesive, nice dough.

Let sit 15-30 minutes, then knead the dough.

This dough takes more kneading than most; my mixer kneads on low for 10 minutes, so if kneading by hand, you're going to knead about 10-15 minutes.

If the dough sticks to the bowl or your hands, add a little more flour, but try not to add too much. It's not a stiff dough, it's on the softer side. Try wetting your hands/counter for kneading if it's sticking and you've already added a lot more flour.
Bake in One Day Method
Cover your dough with plastic wrap or a plastic bag and let rise 2-3 hours until it looks like it's kind of doubled (don't overthink it, as long as it's 1.5x its original size).
Overnight Method (see notes)
Cover your dough with plastic wrap or a plastic bag and let sit overnight. It will be gigantic and beautiful in the morning.
For Either Method: Continue as Below
Punch your dough down, give it a few kneads. Yes, you are letting it rise twice before shaping. For more on this, read the blog post above the recipe card.

Cover with plastic wrap or a plastic bag and let sit 2-3 hours until it's doubled. To test if your dough has doubled, dip your finger in flour and poke the dough. If the dough bounces back- it's got more to give and needs to keep rising. If the dough stays indented, it's given all it has to give and you can proceed.
To Shape Rolls
Punch down the dough, dump it onto a lightly floured counter, flatten our into a roughly 10" x 6" rectangle.

Use your knife, a bench scraper, whatever you have, to cut into 24 equal portions.

Shape the buns however you want, personally I prefer to choose the smoothest looking side up, and tuck the sides down under, pinching them together to make a cute little dough ball. Put the ball dough side down on a greased or lined pan.

If you want pull apart buns, put the dinner buns in a 9×13 pan; they will pretty much be touching. If you want stand alone buns use a cookie sheet and space them farther.

Cover and let rise 2-3 hours. If your house is REALLY cold, like below 60F/15C, turn your oven on for a minute or two. Tuck a cast iron pan in first to help retain heat. Turn oven off and put covered bread into oven.

When it's doubled (don't forget to take buns out if they're in there!) preheat oven to 375F.

Bake for 15 minutes, check internal temperature with an instant read thermometer – this is the best way to know when your buns are done, because you may have them a different size than mine and sourdough bakes longer than yeasted…underbaking is a very common problem. They should be 190F-200F. If not, put in for another 5 minutes.

When the buns are done, take from the oven, brush tops of them with melted butter or just rub a stick of butter all over the tops. While this is optional, it really helps you have soft buns!
Notes
OVERNIGHT TWEAKS - In my extensive testing of this recipe, I have found if you are doing an overnight rise, you can skip the autolyze rest before kneading AND skip the first punch down and rise. Just let mix, knead, let it rise, punch down and shape in the morning. EXCESS EGGS IN YOUR HOME?! You can swap ¼ cup of milk for an egg! Add the egg in step 3. It adds an awesome boost to your dough and when you've got extra eggs, why not?!
Nutrition
Serving:
1
roll
Calories:
86
kcal
Carbohydrates:
17
g
Protein:
2
g
Fat:
1
g
Saturated Fat:
0.5
g
Polyunsaturated Fat:
0.1
g
Monounsaturated Fat:
0.2
g
Trans Fat:
0.02
g
Cholesterol:
2
mg
Sodium:
104
mg
Potassium:
32
mg
Fiber:
1
g
Sugar:
1
g
Vitamin A:
27
IU
Vitamin C:
0.004
mg
Calcium:
13
mg
Iron:
1
mg