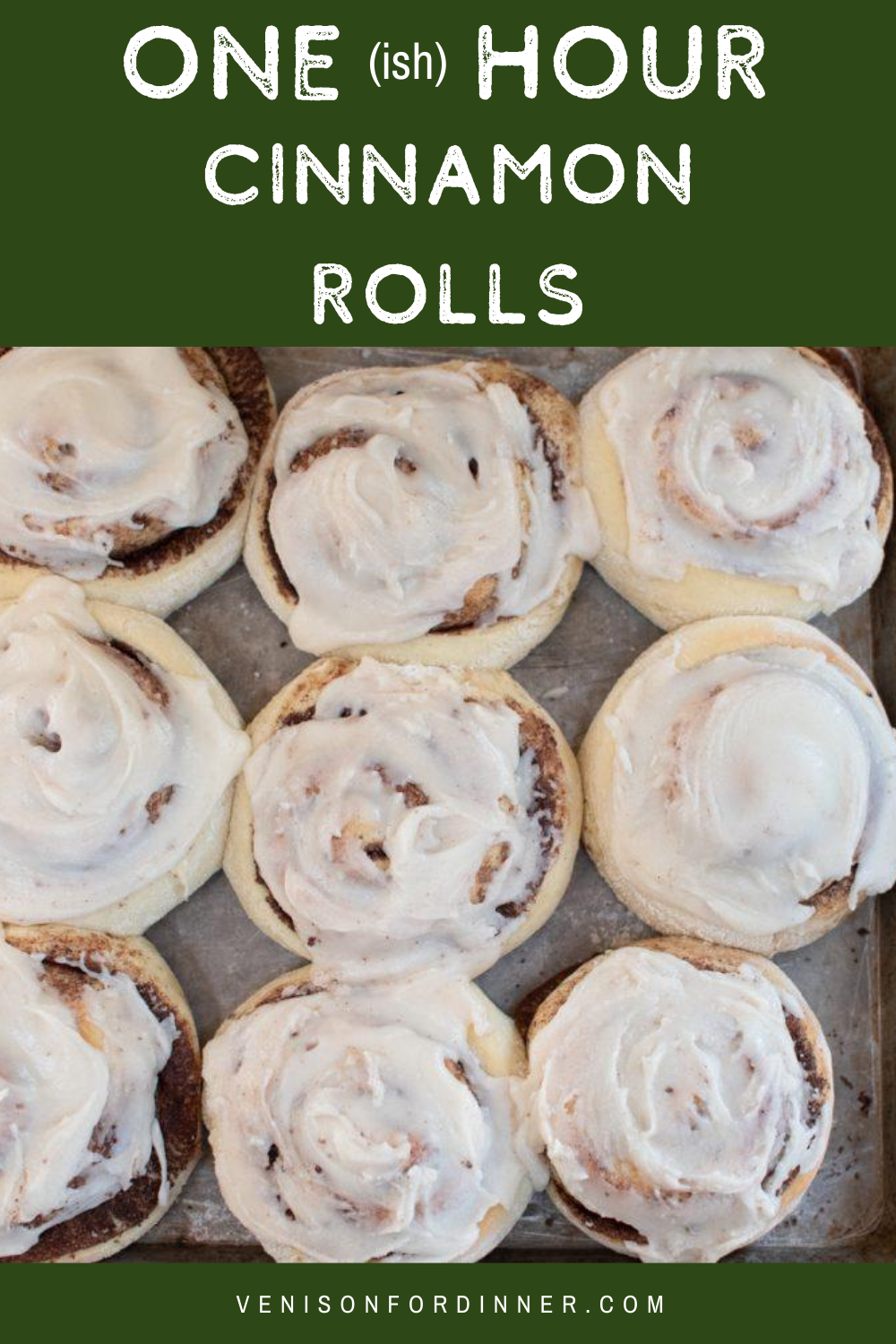 Last week on Instagram I decided to take pictures with step-by-step instructions of how to make One Hour Cinnamon Rolls. This was the first time I was making this recipe and I thought it'd be fun to keep everyone updated as I went. They were such a hit that I knew they needed to be shared on the blog! I considered re-making to photograph with my real camera, but instead decided that I'd share the Instagram photos and captions, because they were pretty fun. The Cinnamon Roll recipe will be at the bottom! So word for word, here's what I wrote:
How to Make One Hour Cinnamon Rolls
Part 1: Warm the water, buttermilk, sugar and butter together till butter until just melted. Whisk in yeast and pour mixture into bowl of dirty crusted kitchen aid with a squirrel looking on. Set timer for 15 minutes and go start the wood stove.
Part 2: Realize you forgot to press start on timer. Guesstimate how long it's been and decide to just go onto the next step. Look around for measuring cups and settle for a bowl you know is ½ cup. Mix eggs, salt and flour into yeast mixture. Turn mixer on too high and dust the kitchen with flour. Turn mixer on lower, strap toddlers into high chairs and give them yogurt so the buns will maybe take less than 3 hours to get made. After 7/10 required minutes mixing, pull dough out and knead by hand before I kill my Kitchen Aid. Part 3 following promptly…
Part 3: Realize filling method is crack and make up your own. Let dough rest for 10 minutes. Double check timer is on. Go to pull out small pan to melt butter and find missing measuring cups. Flour surface in prep for rolling out dough.
Part 4: Roll out dough on flour surface until evenly about ¼ inch thick. Approx 12? wide and 24? long. Spread melted butter, brown sugar, cinnamon and the secret ingredient…cocoa! About ¼ cup of it really deepens the flavour. Most people can't put their finger on the ingredient but everyone agrees its a spectacular addition.
Part 5: Roll it up and pinch the seams while realizing your baby belly now touches the counter while you work and you have a lovely flour/sugar/cinnamon/cocoa line on it. I find I can kinda work the log to make it more uniform at this point as the centre is always fatter. Realize that this recipe is crack and no way you cut this into only 12 buns. Cut into desired size which was 1? (26 buns) for me.
Part 6: Grease pans and divide your buns between them. Drop filling all over counter and floor as you go. I did 4 pans so I can bring them to various people (stepdad to apologize for nasty fudge, look back in my IG feed for that post. Might bring a pan to hubs and his crew at work if I can find out what job site they're on. I always bake more than I need so I can share. Cause food is my ministry) Holler at toddlers to stop banging their cups. Realize it's already been more than an hour and you might as well let them rise for 20 min. Turn oven onto 375F and timer for 20 minutes. Lay on couch cause your pregnant butt is tired from all this.
Part 7 (I think?!): Fit all pans in apartment size oven using creative thinking skills (real life math yo!) and start making the icing. Butter, icing sugar, vanilla and instead of milk, use coffee. You'll thank me.
I ended up adding chopped pecans into the icing as well
Part 8: When fully baked, about 15-20 min, cool on racks 10 min before spreading with decadent pecan filled icing. We are about a minute from digging in. Wahoo!
Look how dark and rich that filling in thanks to the cocoa!
Thanks for following along! It was so much fun to do it as I went on IG and thought some others would get a chuckle here. And now for the recipe!
One-Hour(ish) Cinnamon Rolls
Serve your family delicious cinnamon rolls for breakfast (or dessert) ready in just about an hour! The not-so-secret ingredients in this recipe make a dark, rich filling that is unbelievably decadent.
Ingredients
Cinnamon Roll Dough
1

cup

water

¾

cup

buttermilk

OR ¼ c water+½ c yogurt

½

cup

brown sugar

¼

cup

butter cut into small pieces

3

tablespoons

active dry yeast

1

teaspoon

salt

2

eggs

5-6

cup

all purpose flour

preferably organic…it really is a higher quality product in this case, not just a label. We love Anita's Unbleached White
Cinnamon Roll Filling
¼

cup

butter

melted

1 ⅓

cup

brown sugar

¼

cup

cinnamon

¼

cup

cocoa

optional
Cinnamon Roll Frosting
⅓

cup

butter

softened

1

teaspoon

vanilla

4-6

tablespoons

cold/room temperature coffee

optional, sub for milk

1

pound

icing sugar

¾

cup

chopped pecans

optional
Instructions
Cinnamon Rolls
In a pot, warm together water, buttermilk, sugar and butter until butter is just melted.

Pour the mixture into the bowl of a stand mixer and stir in the yeast. Let sit 15 min.

Add in salt, eggs and flour.

Mix for 10 minutes (I had to take out of my Kitchenaid and knead by hand after a while.)

Let the dough rest for 10-15 minutes.

Melt butter and get our your other filling components.

On a floured surface, roll dough out until approx ¼ inch thick, about 12? wide by 24? long.

Spread melted butter evenly, then sprinkle on other filling ingredients.

Roll your dough up, sealing the seam by pinching it.

Cut into desired size, which was 1? for me. (I'd rather make medium-sized buns and my kids eat a whole one or two if they'd like, rather than giant ones that they can't finish. Up to you!)

Place rolls in greased pans, or cookie sheet, giving them a bit of space whatever you do use. I used 2- 9? pie plates and 2 11X7 pans so that I could share with others.

OPTIONAL: Let the rolls sit for 20 minutes. Very recommended if not in a time crunch!

Preheat oven to 375F while they sit.

Bake for 15-20 min, switching around the pans as you go if you don't have a convection oven.

When done, cool on racks for 10 minutes, then spread with frosting.
Frosting
Cream together butter, vanilla and a couple cups of icing sugar. I honestly never measure this, so just add a bit of coffee, a couple cups of icing sugar, back and forth until you've got a nice fluffy texture.

When you're there, add the chopped pecans, mix again and then lick the beaters!
Nutrition
Calories:
665
kcal
Carbohydrates:
118
g
Protein:
9
g
Fat:
20
g
Saturated Fat:
9
g
Polyunsaturated Fat:
2
g
Monounsaturated Fat:
7
g
Trans Fat:
1
g
Cholesterol:
63
mg
Sodium:
335
mg
Potassium:
224
mg
Fiber:
6
g
Sugar:
71
g
Vitamin A:
477
IU
Vitamin C:
0.3
mg
Calcium:
119
mg
Iron:
4
mg
Kid-Approved Breakfast Ideas
Start your day off without a fight when you serve up one of these breakfast ideas with a no-complaining guarantee!