Everyone loves takeout on a busy day! Much like ordering out, these Sweet and Sour Moose Meatballs make a lot for those amazing leftovers.
I first discovered this recipe in a church cookbook years ago, and tweaked it to my liking. These still make a regular appearance on our menu, and the entire family enjoys them. I love them because I can make a ton at once and stash some in the freezer.
Looking for more takeout favorites? You can also stash fried rice in the freezer, or enjoy yummy Korean-style venison. If you want even more options, make a big batch of plain venison meatballs so you can add to any cuisine.
Why You Need This Recipe
takeout is a favourite, but not the ingredients and yucky feeling.
cook once, eat twice (or more!) - quadruple this and you'll have a freezer stash.
use any ground red meat you have on hand.
Key Ingredients
Meat - I used moose here, as we've had an abundance lately and I am here for it. But feel free to use any sort of wild game or beef, whatever your family prefers.
Oats - Quick or rolled, it doesn't matter. We are grinding it to almost flour as a binding agent.
Sauce - Vinegar, soy sauce, and a sweetener combine into the most amazing sweet and sour sauce you've ever had!
Pineapple - I think any sweet & sour takeout I've ever had includes pineapple, so it is a must.
How to Make Sweet and Sour Meatballs
***See recipe card below for precise measurements and instructions.***
Step 1: Grind the oats, and add all meatball ingredients to a large bowl. Use your hands or my favourite, the Danish dough whisk.
Step 2: Use a scoop or just judge by eye, and roll into evenly-sized meatballs.
Step 3: Brown the meatballs in a skillet with some oil on one side; flip and brown the other. This isn't to cook them through, just add colour.
Step 4: Whisk the sauce ingredients over medium heat until thickened.
Step 5: Arrange meatballs in a baking dish and top with pineapple. Pour sauce over the dish and bake to cook through.
Tips and Tricks
Making a bunch for a crowd or freezer cooking? "Brown" them in the oven for 10 minutes before adding the sauce and cooking. Do this on a cookie sheet or in your baking dish.
I reach for sucanat or other less-refined sugars. You could also use honey or regular brown sugar if you'd like.
Cool meatballs completely before combining with cooled sauce to freeze.
Substitutions
Do you keep oat flour on hand? Start with ¼ cup and once combined, see if you need to add a touch more. The ¼ cup oats I use yields slightly more flour by volume.
Want to add more veggies? Chop bell peppers and white onion in large pieces and add to the baking dish.
What to Serve with Meatballs
I love to serve these over rice for the closest to takeout feeling. You could also drop some potatoes into the Instant Pot for mostly hands-off mashed potatoes. Pasta and quinoa are also great options. Cook up some veggies from the freezer and you have a complete meal.
FAQs
Are these meatballs gluten-free?
By using oats as a binder, these meatballs are gluten-free. Ensure your oats are certified GF if that's important to you. To make the sweet and sour sauce gluten-free, use tamari or coconut aminos to replace the soy sauce. As long as you aren't using honey, you could even use the sauce in vegan meals.
How do I shape meatballs?
Reach for your cookie scoop! This will help make all meatballs the same size to ensure they cook evenly. It also gives you a nice shape that only needs a quick roll to be completely round.
How do I freeze this meal?
I like to make a lot extra. If you're going to the trouble of mixing up one batch, what's 2 or 3 more? Divide your meatballs into a "cooking dish for now" and a freezer bag "for later." Pour hot sauce over the dinner dish and let the rest cool in the pot while the meatballs cool. Then combine, label, and freeze.
photos by Kiara Colebank
More Freezer Meal Favourites
Hey friends, don't forget to follow me over on Instagram, cause if you like me here, I post there a LOT! I'm also on YouTube with tutorials and Facebook for all sorts of things.

If you like this recipe, I'd love if you reviewed it so others can find it easier. Sharing this recipe on Facebook or Pinterest is another way you can help us out at no cost to you. Thanks, xo Kate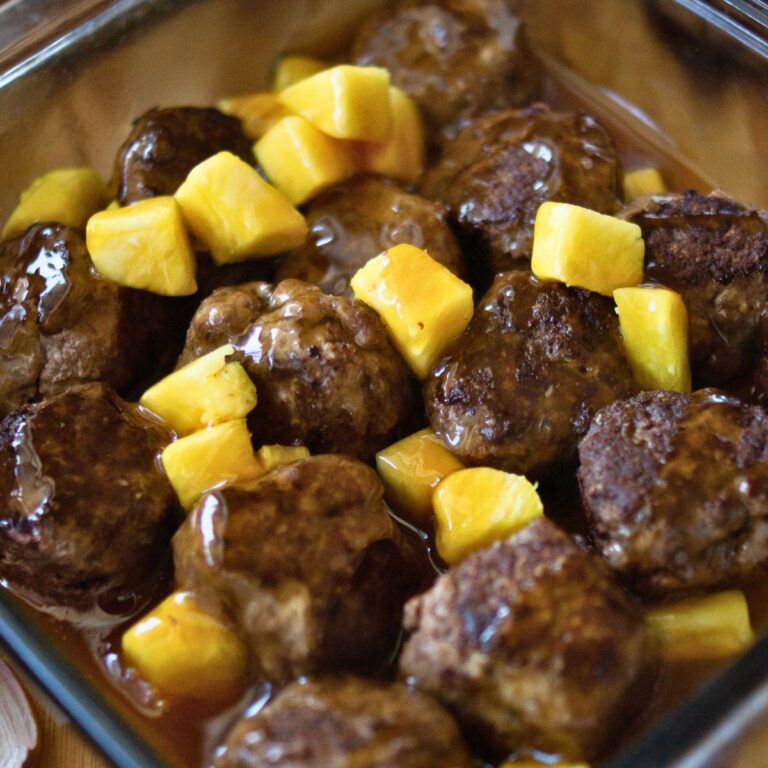 Sweet and Sour Meatballs
It's official that I'm in love with Sweet and Sour Meatballs. They're so versatile! They taste like good take out and they can be prepped ahead. Sweet and Sour Meatballs even freeze well in a Ziplock bag with the cooled sauce. They easily upscale to make large batches at once. Need I say more?
Ingredients
1

lb

ground moose meat

any wild game or beef

1

egg

¼

cup

oatmeal

put through blender or food processor into flour

2

cloves

garlic

minced (or 1 teaspoon dried minced garlic)

Dash

black pepper

⅓

cup

water

¼

cup

vinegar

1

tablespoon

soy sauce

use tamari for gluten-free

1

tablespoon

cornstarch

⅓

cup

sucanat

rapadura or panella (These are all low processed sugars. Use brown sugar if thats all you have. 3-4 tablespoons honey could be subbed!)

½

cup

pineapple tidbits or chunks, drained

optional
Instructions
Mix together the meat, egg, oatmeal, garlic, and pepper.

Roll into 1" balls and brown in a skillet with oil on medium-high.

In a medium saucepan whisk together water, vinegar, soy sauce, cornstarch, and sucanat over medium heat until thickened.

Arrange browned meatballs in 8"x8" pan, sprinkle pineapple on top, then pour the sauce on.

Refrigerate for a day or so OR bake right away at 350°F for 45 minutes.
Notes
This freezes perfectly! Cook the meatballs and then cool completely before combining with cooled sauce in a bag or container.
To make a large batch, brown in the oven at 350°F for 10 min on a cookie sheet!
Serve over rice, quinoa, pasta, or mashed potatoes.
Nutrition
Calories:
416
kcal
Carbohydrates:
36
g
Protein:
37
g
Fat:
13
g
Saturated Fat:
6
g
Polyunsaturated Fat:
1
g
Monounsaturated Fat:
3
g
Trans Fat:
0.01
g
Cholesterol:
176
mg
Sodium:
473
mg
Potassium:
620
mg
Fiber:
1
g
Sugar:
28
g
Vitamin A:
99
IU
Vitamin C:
4
mg
Calcium:
44
mg
Iron:
5
mg